Artwork (minimum 1400×1400, maximum 2048×2048) – Your podcast artwork needs to be beautiful. Don't neglect this aspect of your podcast as Apple and iTunes seem to only want to feature podcasts (more on this later) if they have professional looking artwork.
Podcast name – Your podcast name should speak to you and your audience. Ideally, listeners should know what the podcast is all about from just the name alone. Having a very descriptive name can help.
Podcast category/subcategory – There are dozens of different categories and subcategories on iTunes. Everything from arts and politics to comedy and religion. Choose the category that best suits your podcast's topic. It doesn't need to be the exact topic. If you're struggling to decide on a category, look at other podcasts on iTunes that are similar to yours and take a look at what category and subcategory they use.
Podcast description – You don't want to skimp out on the description of your podcast. You will want to include as many keywords and phrases as possible that describe your podcast best. This is going to help with the SEO of your podcast listing on websites such as iTunes. iTunes is a search engine and most people that find your podcast, will likely find it through a search, at least initially when your podcast is new.
As your podcast grows, it's also a good idea to eventually include the names of big guests you've had on and the topics of your most popular episodes. This way, new listeners know immediately which podcast episodes to check out, making new listeners more likely to become fans.
Podcast rating – Will your podcast be clean? Considering your rating is important as you want to be consistent with it. Ideally, every episode should either be clean or not.
What Equipment and Software You Need
Staples Canada's  website is a great place to start shopping for equipment. For one, you can go online and check out their equipment but even better you can visit a store for more support. The site tells you which products are available ( Instore/Online) if you want to check them out or get advice from the Staples consultants.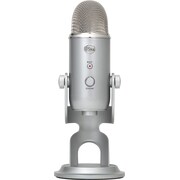 Item : 400092 / Model : 1950