Can I be Happy and Ambitious at the Same Time? #MoreBizWomen #womensday #makeithappen
Mindset – you hear that buzz word a lot. I recently attended a workshop called "Millionaire Lemonade Stand" for growing entrepreneurial kids that was really amazing.
It is said that our thoughts about money and habits about money are formed when we are children.
I grew up with a single mom, who for many years received no financial support from my father and we relied on my amazing grandmother to keep the heat and hydro on. Like many women of the era (early seventies) she had left work to raise a family. This was the norm.
When I was two years old she found out that my father no longer wanted to be in their marriage and to make matters more complicated (and worse) – he had not been faithful. My mother was devastated and not prepared to be on her own financially or emotionally.
Thank god she was strong and weathered the storm with pride and determination. It taught me a lot. In  those early and impressionable years I likely developed my life long fear and distrust in financial security.
It did however have an upside. It help me to start saving for my retirement in my early twenties.
My thirties  ( and forties – so far)  have been spent in conflict emotionally wondering and stressing over whether I could be ambitious and raise a family. It led me to start my own business so that I could earn money and fulfill my own ambitious of helping women but still be easily available for my children. Women in my life have played such a central role to my success so it made sense that my business would be centered around that.
It is easy to see why the topic of happiness and being ambitious would be on my mind. Can we have it all?  Career Bliss weighs in below:
Thinking Big and Ambitiously Helps You Achieve More, Which Can Directly Boost Happiness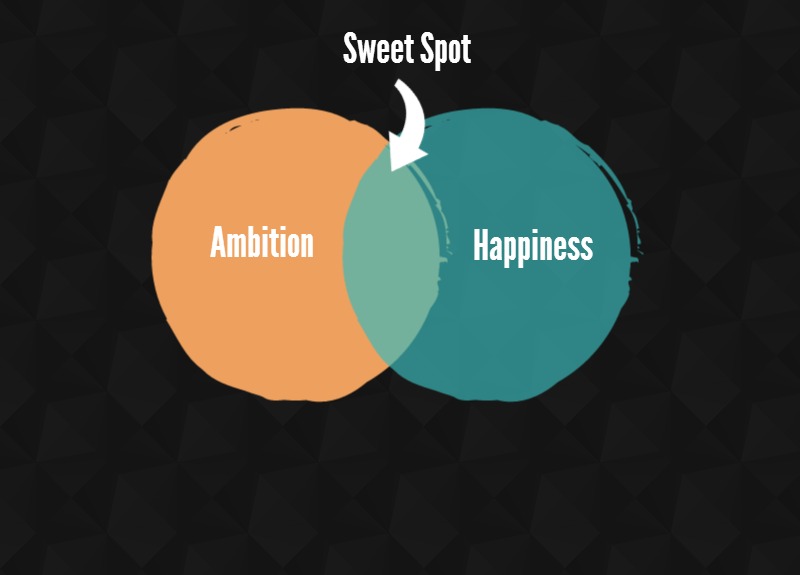 Even if you don't achieve the goal you planned, aiming high allows you to achieve more than you would otherwise. "In the process, you will have pushed your skills beyond their point of comfort, and grown immensely," he says in the blog post. "More so than most people do in their whole lifetimes."
So, you see ambitiousness can be a means to happiness—so long as you aren't recklessly stubborn about your goals.
You Can Be Ambitious and Aim for Contentment…Ask Yourself These Questions:
The best way to disentangle this idea of ambition versus happiness is to work through the different ways in which we might think about someone being truly happy, suggests Brad Brummel, Ph.D. in industrial and organizational psychology. Sometimes the hardest part is being able to measure how you truly feel. Brummel offers the following questions to ask yourself to pinpoint satisfaction, self-esteem and contentment:
If I could live my life over, I would change almost nothing (Satisfaction with Life)
I am able to do things as well as most other people (Self Esteem)
Life would be complete if I never accomplished another great thing (Contentment)
I demand the best because I am worth it (Entitlement…a negative reflection of ambition)
I took the time to contemplate the four questions above and I am happy with my answers thanks to the help and support of my mother and grandmother.
I have been able to achieve family and career happiness – somewhat in harmony. I  feel incredibly fulfilled because of the difference I have made through my business of helping women. I think my children are growing up with the benefit of a close relationship with their mother – seeing her excel in business.
Through my business I have raise money for women in shelters to find their second chapter in life. We have also mentored women and each year we bring together female entrepreneurs looking to make it happen  at our annual conferences . I hear amazing feedback  about how they have achieved success after listening to the incredible women who have graced our stage.  I won't lie …. That brings me incredible joy. So let's celebrate. The theme for International Women's Day is "#MakeitHappen".   Staples Canada is bringing together women together share their stories.
Join Staples Canada to celebrate International Women's Day on March 7th and 8th by visiting your local store. Each store will be showcasing local entrepreneurs making a difference in their communities. Enjoy and save at these events with a 10% savings coupon.
Remember Staples Canada has everything a business needs to succeed. Discover how Staples products and services can help support your business needs throughout these events .
Tweet with Us!
Join us for the #MoreBizWomen Twitter Chat at 1 pm EST celebrate #womeninbiz. Win biz memberships and $250 @StaplesCanada gift card.
Join our tweet chat live using http://twubs.com/morebizwomen and you have the chance to win 5 Business Memberships, $250 and $100 Staples Gift Card!